The Lovely hosts of the Mom-Lovin Hop have decided to take a 'summer hiatus' from the Hop! With two of us having babies we all would love to spend some time focusing on our families! We love this link up and the community we have built and will definitely be back hosting in September! We hope that throughout the summer you'll all still stay connected with the mamas you have met through the hop!
Here we go! Don't forget to...
**grab out button and display it proud for other mama's to get in on this action!
**read the rules, link up and socialize!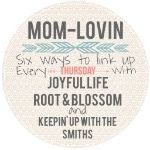 Please, if you are new to the hop or have been here but haven't left a comment, please let us know on our own respected blogs that you are a new follower (be sure to say HOW you are following) so we can follow you back!
Also,
If you are interested in co-hosting FOR FREE shoot Hannah an email at hannahsjoyfullife (at) gmail.com to get on the list, growing your followers couldn't be easier!