Okay, how come none of you ladies stopped me from booking a tent camping trip this weekend back in February? Yes, at 35 weeks pregnant I'm camping for three nights and four days and oh, it's supposed to be about a bazillion degrees out high 90's low 100's. Call me crazy but I am still excited!

No Guest Co-Host this week!
If you're curious to experience hosting a hop, now is your time! We make it super easy for you- all you need to do is copy and paste the HTML into your post, upload, and mention it on your social media! TA-DA! Let us know if you're interested. Oh, and it's FREE!
Our Featured Mama this week is Alfa from
Lightly Sprinkled
Alfa is a wife and mother who is also an amazing crafter with a lovely
Etsy shop!
Check out those lovelies below! Her blog started out as a way to document her pregnancy and began a creative space where to share about recipes, DIY, and home decor. She's a lovely blogging mama that you all need to go visit!
Here we go! Don't forget to...
**grab out button and display it proud for other mama's to get in on this action!
**read the rules, link up and socialize!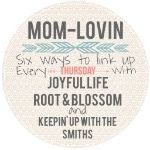 Please, if you are new to the hop or have been here but haven't left a comment, please let us know on our own respected blogs that you are a new follower (be sure to say HOW you are following) so we can follow you back!
Also,
If you are interested in co-hosting FOR FREE shoot Hannah an email at hannahsjoyfullife (at) gmail.com to get on the list, growing your followers couldn't be easier!