I feel like I've dropped the ball on you guys this week on the blog, I seriously have totally spaced on it! It's been a fun but busy week- Monday night I hosted a lady's craft night which was so therapeutic! My pregnancy nesting has actually been focused on driving myself crazy over outside projects. I really needed a wheelbarrow today (ours is broken) and I thought to ask our neighbor but pretty sure he wasn't going to let an almost 34week pregnant woman use it... Come on people! I really want a fire pit, like super bad, like almost drove myself to the store yesterday to buy bricks. Have you had crazy ambition this week? I'll gladly share!
Tiffany was our featured mama last week and this week she is guest co-hosting with us! If you were around last week you saw that Tiffany is a mama to be! She is 36 weeks with her little man Kingston! Honestly I cant wait to see this baby! Just look at that gorgeous couple! There is no doubt this baby will be handsome! :) Be sure to pop over and wish Tiffany well in her last few weeks of pregnancy!
Our Featured Mama this week is Tawnya from
All of Life's Little Adventures
Tawnya and I grew up in the same small community in little PEI, Canada, we went to the same school from grades 1-9 of about 300 people total! And now that she has moved across Canada it has been really awesome to connect with her through her blog! Tawnya is mama to Scarlett (best dressed baby girl ever!!) and wife to Adam. She also juggles being an Registered Nurse as well as an amazing photographer on the side! Don't miss checking out her sweet blog!
Here we go! Don't forget to...
**grab out button and display it proud for other mama's to get in on this action!
**read the rules, link up and socialize!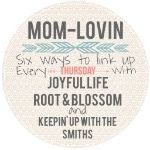 Please, if you are new to the hop or have been here but haven't left a comment, please let us know on our own respected blogs that you are a new follower (be sure to say HOW you are following) so we can follow you back!
Also,
If you are interested in co-hosting FOR FREE shoot Hannah an email at hannahsjoyfullife (at) gmail.com to get on the list, growing your followers couldn't be easier!