I hope you all got your entries in for the giveaway last week! Since it closes at midnight on the 19th we'll be announcing sometime on the 19th who the winner is!

It's finally anniversary mini vacay for us! Heading out to a nice dinner tomorrow after work and then it's off to the resort! Hope you guys have a great weekend and can't wait to hop the link ups!
A HUGE thank you to everyone who came out last week and participated in our GIVEAWAY!
You still have time to enter right HERE and we will announce the winner via social media tomorrow! So don't miss out!
Andrea's blog is just full of beautiful things, beautiful pictures, beautiful graphics, and beautiful words! And we just love it! Read about her life in Brooklyn with her husband and little girl!
Here we go! Don't forget to...
**grab out button and display it proud for other mama's to get in on this action!
**read the rules, link up and socialize!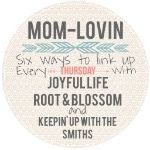 Please, if you are new to the hop or have been here but haven't left a comment, please let us know on our own respected blogs that you are a new follower (be sure to say HOW you are following) so we can follow you back!
Also,
If you are interested in co-hosting FOR FREE shoot Hannah an email at hannahsjoyfullife (at) gmail.com to get on the list, growing your followers couldn't be easier!