Welcome friends! Nothing note worthy here- just preggo and tired. ;) Hope you all have much more to share, I'm looking forward to it!
Alycia started her blog to keep friends and family near and far updated on their life happenings, fortunately for everyone that also includes DIY post! She is mama to little girl Palmer and their fur baby, leaf. Thanks for being with us this week Alycia.
Tiffany is a momma to be! She's just weeks from meeting her little man. You veteran mamas be sure to head on over and give her some encouragement for these last long weeks!
Here we go! Don't forget to...
**grab out button and display it proud for other mama's to get in on this action!
**read the rules, link up and socialize!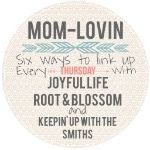 Please, if you are new to the hop or have been here but haven't left a comment, please let us know on our own respected blogs that you are a new follower (be sure to say HOW you are following) so we can follow you back!
Also,
If you are interested in co-hosting FOR FREE shoot Hannah an email at hannahsjoyfullife (at) gmail.com to get on the list, growing your followers couldn't be easier!