With the exception of some doctors appointments we have managed to keep a pretty low key profile this week and it has been so fruitful to all of us! I also started working on filling the chest freezer for after baby arrives! So far I have 18 breakfast sandwiches for Chris when he goes back to work and 2 loaves of homemade break. It's a modest start compared to my goal but it's a start nevertheless.
Hope you all have been able to take some time for you this week- we beginning one of the craziest seasons of the year, so important to get some quiet time.
Our Guest Co-Host this week is Kristi from Making it in the Mountains
Kristi had me at the name of her blog! A wife, mother, and teacher who lives where else but in a mountain town, get it? Perfect. Kristi is a versatile blogger who writes about anything and everything- all depending on her mood and current projects and activities. And I must say, all her projects are absolutely beautiful! Welcome Kristi!
Our featured mama this week is Cassie from Kent Heartstrings
Cassie and her family reside in sunny San Diego and writes about he happenings of their life. Some of those happenings include fabulous DIY projects and homeschooling.
Here we go! Don't forget to...
**grab out button and display it proud for other mama's to get in on this action!
**read the rules, link up and socialize!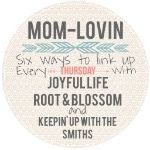 Please, if you are new to the hop or have been here but haven't left a comment, please let us know on our own respected blogs that you are a new follower (be sure to say HOW you are following) so we can follow you back!
Also,
If you are interested in co-hosting FOR FREE shoot Hannah an email at hannahsjoyfullife (at) gmail.com to get on the list, growing your followers couldn't be easier!