Welcome ladies! It was fun meeting new mama bloggers last week! Here's to another great hop! You KNOW I'll be popping around this week because it's gonna be the best distraction from finishing packing. :)
Our Guest Co-Host this week is Ileana from Ily Who
Ileana is a fave mama here at Mom-Lovin. She is almost always here and has co-hosted with us a few times. We love having her and we just plain love her! Ileana is such a down to earth mama who shares real life on her blog. Check out her recent posts on tantrums and her nursery faves! Thanks for always being such a great supporter of Mom-Lovin Ileana!
Our featured mama this week is Madeline from Pretty Thing & Co
Pretty Thing & Co is a beauty blog which we just thought was so fun! All of us mamas need a little beauty in our lives and these ladies (the blog is written by a few ladies, Madeline included) know their beauty products! Madeline lives in Italy and is a mama to one sweet little girl. Go check out Pretty Thing & Co and show them some love!
Here we go! Don't forget to...
**grab out button and display it proud for other mama's to get in on this action!
**read the rules, link up and socialize!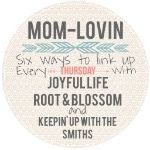 Please, if you are new to the hop or have been here but haven't left a comment, please let us know on our own respected blogs that you are a new follower (be sure to say HOW you are following) so we can follow you back!
Also,
If you are interested in co-hosting FOR FREE shoot Hannah an email at hannahsjoyfullife (at) gmail.com to get on the list, growing your followers couldn't be easier!