If you are a
fan of the Root&Blossom FB page
you would have seen that I'll most likely be flying home by myself in a little over 2 weeks. Beside the fact that I hate flying, a 10 hour flight with a 30lb lap passenger with my varicose veins and sciatic nerve issues sounds pretty horrible. Buying Gabriel his own ticket would set us back a few grand (no joke) so not really an options. Worse things have happened and haven't lost complete hope yet in flying as a family. I'll be interested in what the doctor says about it all next week, he after all has last say when it comes to me flying 6 months pregnant.
Guest Co-Host this week, Laura from
Bits of Sweetness
Laura is a mama to two little boys and a little girl soon to be making her way into the world! She writes about her life raising boys, date night ideas, crafts, meals, just lots of little 'bits of sweetness' :) Be sure to drop over to say hi to Laura!
If you are interested in co-hosting FOR FREE shoot Hannah an email at hannahsjoyfullife (at) gmail.com to get on the list, growing your followers couldn't be easier!
Our featured mama this week is Stephani from C'est Si Bon
Stephani is a mama to two sweet girls Josephine and Olive and wife to Eric. She writes about their life, most recently Olive's brain surgery at just 1 month old!!! This mama has been through a lot and she is always so positive! Be sure to pop over and check out their story! Not to mention all of the other awesome posts she has got going on!
Here we go! Don't forget to...
**grab out button and display it proud for other mama's to get in on this action!
**read the rules, link up and socialize!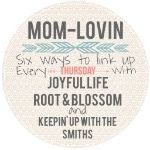 Please, if you are new to the hop or have been here but haven't left a comment, please let us know on our own respected blogs that you are a new follower (be sure to say HOW you are following) so we can follow you back!