Our guest co-host this week is Sarah from
Dreaming About Baby
Sarah is wife to Micah and mama to her adorable girl Aubrey. She writes about their lives, and the ups and downs of motherhood. Check out her most recent project creating a dry erase coloring book for Aubrey, great idea! Her monthly "Aubrey Says" posts are also always a hilarious read!


Our featured mama this week is Pamela from MacDonald's Playland
Pamela is a mama to Lilly-Jade and brand new baby boy Everett (Like seriously he is only a couple of weeks old!! So sweet!) Pamela shares about her life as well as some super inspiring and beautiful home decor ideas and DIY projects. This mama has fabulous taste! Don't miss checking out some of her posts!
Here we go! Don't forget to...
**grab out button and display it proud for other mama's to get in on this action!
**read the rules, link up and socialize!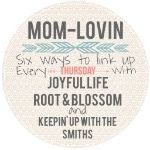 Please, if you are new to the hop or have been here but haven't left a comment, please let us know on our own respected blogs that you are a new follower (be sure to say HOW you are following) so we can follow you back!
Also,
If you are interested in co-hosting FOR FREE shoot Hannah an email at hannahsjoyfullife (at) gmail.com to get on the list, growing your followers couldn't be easier!