We are halfway through our stay no in Japan and I am starting to dream more and more as to what I'll be doing as soon as we get home! And if you haven't check it out already, don't forget to enter the awesome
statement necklace and infinity scarf giveaway!
Our guest co-host this week is Tiffany from
Mrs. Tee
Mrs Tee is a busy mama of 6! We honestly don't know how she juggles it all! She is a definite source for lots of blog hops, and co-hosts her own awesome mama focused hop "
Mommy Mondays
". Tiffany also has a strong faith which is evident in her writing, and has an infectious energy for life! She has something for everyone so check her out!
Our featured mama this week is not one but TWO mamas!
Sara and Hanna from
Stripes and Polka Dots
We couldn't pass up the opportunity to feature these two ladies! Hanna and Sara are some super stylish mamas with a sweet blog! They pass on awesome home and fashion DIY's as well as style tips and finds. Be sure to head over and check them out!
Here we go! Don't forget to...
**grab out button and display it proud for other mama's to get in on this action!
**read the rules, link up and socialize!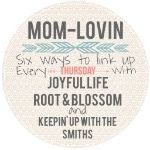 Please, if you are new to the hop or have been here but haven't left a comment, please let us know on our own respected blogs that you are a new follower (be sure to say HOW you are following) so we can follow you back!
Also, If you are interested in co-hosting FOR FREE shoot Hannah an email at hannahsjoyfullife (at) gmail.com to get on the list, growing your followers couldn't be easier!