Somehow this week I completely miss St. Patrick's day here! I noticed a lot of green around town on Monday but it didn't click- it wasn't until it was St. Patrick's day in the states that I realized it had passed here. I blame it on going to a St. Patty's day brunch on Sunday and having a St. Patty's day party coming up this Saturday. Did you guys do anything fun?
Our guest co-host this week is Jennifer from
Mommy Life After Ph.D.
Jennifer is an inspiring mother of four close in age kiddos and enjoys having it that way! She said that adding the second was the hardest which is a great encouragement for those mamas dreaming of having large families. Her blog posts are never short of a life laugh so do yourself a favor and head on over and visit!


Our featured mama this week is Cassie from Little Red Window
What a woman Cassie is! Can I be her when I grow up? She hold multiple degrees, is an avid DIYer and has a balcony garden! If you're looking for project inspiration head over to her blog NOW!
Here we go! Don't forget to...
**grab out button and display it proud for other mama's to get in on this action!
**read the rules, link up and socialize!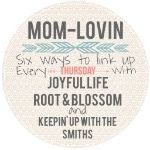 Please, if you are new to the hop or have been here but haven't left a comment, please let us know on our own respected blogs that you are a new follower (be sure to say HOW you are following) so we can follow you back!
Also,
If you are interested in co-hosting FOR FREE shoot Hannah an email at hannahsjoyfullife (at) gmail.com to get on the list, growing your followers couldn't be easier!