Happy Thursday! I spent my morning with five other ladies enjoying some Starbuck, so good! Hope you've gotten to have some intentional time this week with the lovelies in your life!
Our guest co-host this week is Jackie from
Adventures in Mommyland
Jackie is a Southern gal, who has two little boys. She writes about her life and her family. Check out her new Monday Funnies series, sharing funny things she has come across in the last week. Definitely good for a laugh on your monday morning!
Our featured mama this week is Kristin from Sounds of my Pitter-Patter
Kristin's blog is super sweet! We love her heart for encouraging other moms, because that's what we are all about here at Mom-Lovin! Kristin is a mama of one little man (who has the cutest craziest spikey hair! adorable!) as well as a photographer! Check out her recent mini-series on Breastfeeding!
Here we go! Don't forget to...
**grab out button and display it proud for other mama's to get in on this action!
**read the rules, link up and socialize!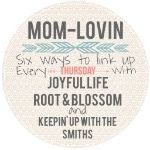 Please, if you are new to the hop or have been here but haven't left a comment, please let us know on our own respected blogs that you are a new follower (be sure to say HOW you are following) so we can follow you back!
Also,
If you are interested in co-hosting FOR FREE shoot Hannah an email at hannahsjoyfullife (at) gmail.com to get on the list, growing your followers couldn't be easier!