I cannot believe it is Thursday hop time already! Chris switched shifts plus had his scheduled day off and his weekend got moved to Sundays and Mondays now so he didn't start work until Wednesday this week! We're excited to be on day shift again though and looking forward to another wonderful weekend in Tokyo! Happy Thursday all!
Sonnet is a very sweet mama, new blogger and super creative crafter! Seriously, just pop on over there and you'll see what we mean. Sonnet has awesome taste and makes some pretty sweet printables and is also about to open an Etsy Print and Design shop! Be sure to make her feel welcome today!
Emily is am inspiring mama, living simply and loving the outdoors in Montana. She has a sweet daughter named Josephine and another babe on the way! Emily's writes about motherhood, music (she is a choral director!), beauty, health and confidence. Be sure to say hello to Emily today!
Here we go! Don't forget to...
**grab out button and display it proud for other mama's to get in on this action!
**read the rules, link up and socialize!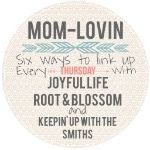 Please, if you are new to the hop or have been here but haven't left a comment, please let us know on our own respected blogs that you are a new follower (be sure to say HOW you are following) so we can follow you back!
Also, If you are interested in co-hosting FOR FREE shoot Hannah an email at hannahsjoyfullife (at) gmail.com to get on the list, growing your followers couldn't be easier!