Welcome mamas! Today is our first hop with our new co-host Amy from Keepin Up with the Smiths! Amy has been one of my blogging favs for some time so needless to say we're excited to have her on board!
Lindsay began blogging as a creative outlet for nap times! When she's not home w
ith her son Luke she's a part time orthoptist. I have to be honest, I had to look up what that was- Lindsay explains it wonderfully, "

I explain to people that "orthodontist" means straight teeth, and "orthoptist" means straight eyes." Welcome Lindsay!
Jennifer is a riot, I dare you to not laugh while reading through her posts. After earning her Ph.D. in mass communication her family decided that it was best for her family to have her stay home to take care of the kids and house. Go check her out!
Here we go! Don't forget to...
**grab out button and display it proud for other mama's to get in on this action!
**read the rules, link up and socialize!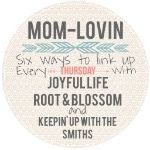 Please, if you are new to the hop or have been here but haven't left a comment, please let us know on our own respected blogs that you are a new follower (be sure to say HOW you are following) so we can follow you back!
Also,
If you are interested in co-hosting FOR FREE shoot Hannah an email at hannahsjoyfullife (at) gmail.com to get on the list, growing your followers couldn't be easier!